Our annual Big Bethany Sleep Out, which took place on Friday 11th March, has raised over £30,000 so far for Bethany's lifesaving work.
In solidarity against the issue of homelessness, over 70 participants in Edinburgh, Aberdeen and across the country swapped the comfort of their beds to sleep rough for one night, raising awareness and vital funds to end homelessness in Scotland.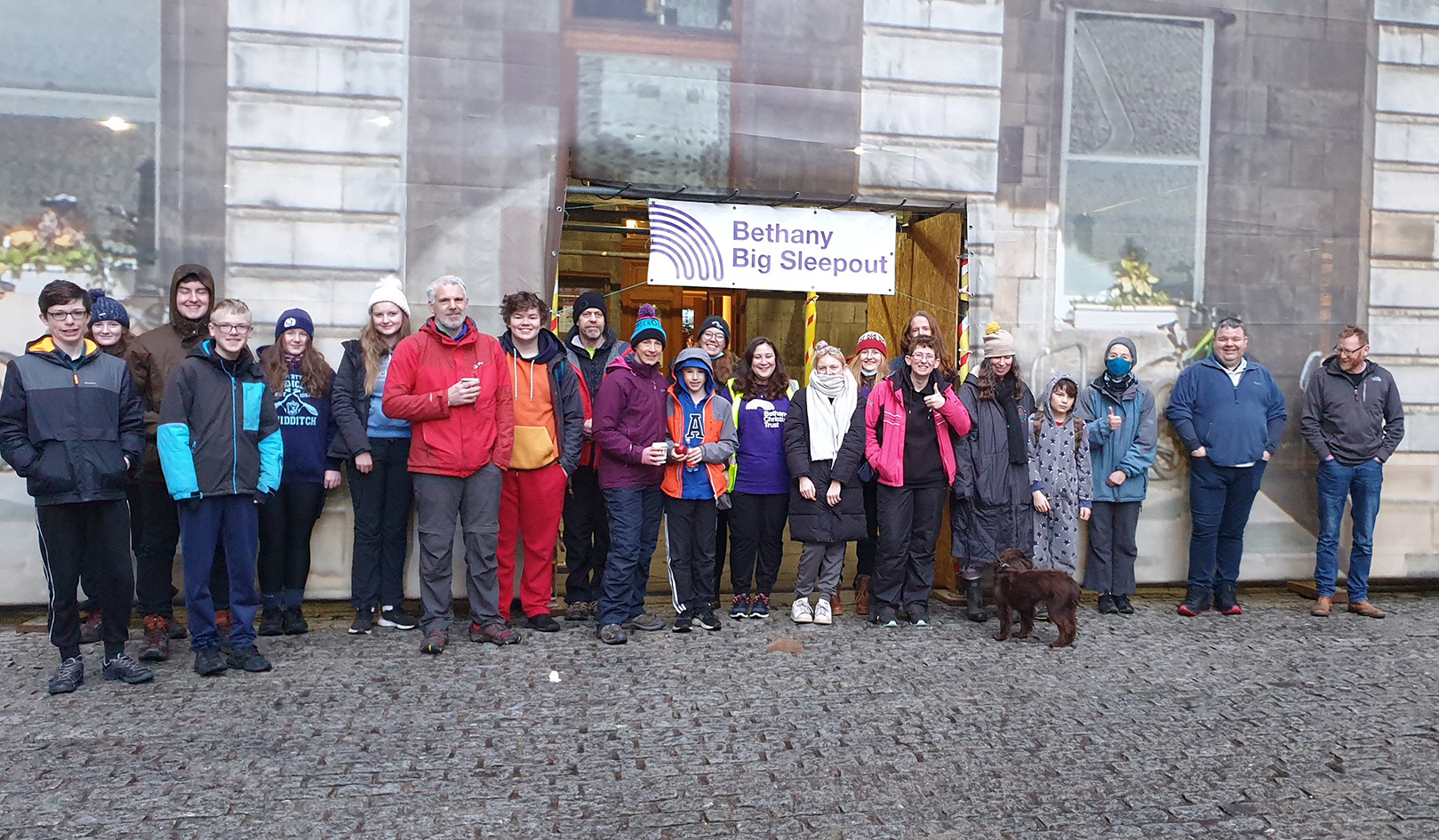 Big Bethany Sleep Out participants at the Edinburgh City Chambers, the morning after the event
This year's Big Sleep Out was particularly special as it saw the return of the customary in-person gathering at Edinburgh City Chambers for the first time since the beginning of the pandemic.
Following the success of last year's Bethany Sleep Out at Home, participants were also given the option to join in from their homes anywhere in the country, ensuring that there were no limitations to getting involved.
From a 5-year-old in Fife to an 80-something-year-old in the Borders, it was encouraging to see participants of all ages getting involved from their gardens, garages and churches in various locations around the country.
One participant, Helen from North Berwick even decided to make the journey to join the gathering at Edinburgh City Chambers. Bringing along her grandson and dog, Topaz who had her very own pup-cardboard-shelter, Helen campaigned actively throughout the night and managed to raise 156 percent of her £500 target.
Helen with grandson, Roan and the jewel of the night, Topaz at Edinburgh City Chambers
Setting up next to Helen was regular Bethany supporter, 80-year-old Bridget Blackmore who went for a more straightforward shelter build with her single blue umbrella, and was keen to tough out the wintry weather and drizzling spells for the cause. Bridget said:
"Every time I have been amazed at the amount of money I have raised and the sponsors who have thanked me for doing this to enable them to give but not have to leave the comfort of their own beds!"
Bridget at the Big Bethany Sleep Out
Rundown of the night
The night began with a musical serenade, as guests were welcomed into the City Chambers. Snacks, hot drinks, including a very special chai latte from Dishoom, Edinburgh, were available to guests, and Bethany staff and volunteers were on hand to help with registration, general assistance and additional security throughout the night.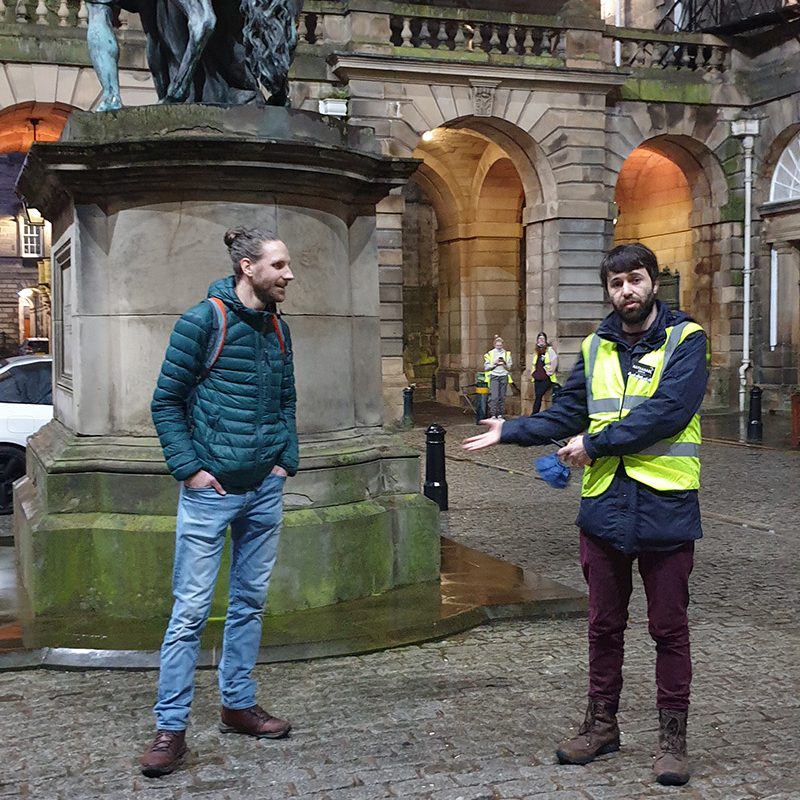 Paul Stevenson, Director of Homelessness Prevention at Bethany Christian Trust kicked off the livestream, speaking to participants across the country about the purpose of the Big Bethany Sleep Out, and sharing stories of impact from Bethany's services.
Re-energised by the reason for the event, participants set off to build their cardboard shelters with at-home participants sending in photos and videos of their feats via social media. It was a true test of inventiveness, determination, teamwork and cardboard taping skills, and while there were many worthwhile efforts, in the end, a scout group from the Wildfire Scouts group from Balerno came out on top.
After some more live music and games, participants settled in for the night in their various cardboard setups, sleeping outside on hard ground in freezing weather – only a tiny glimpse of what many facing homelessness in Scotland go through.
And even as they slept, funds trailed in with encouraging messages from friends, family and supporters, building the total on the night to over £16,000.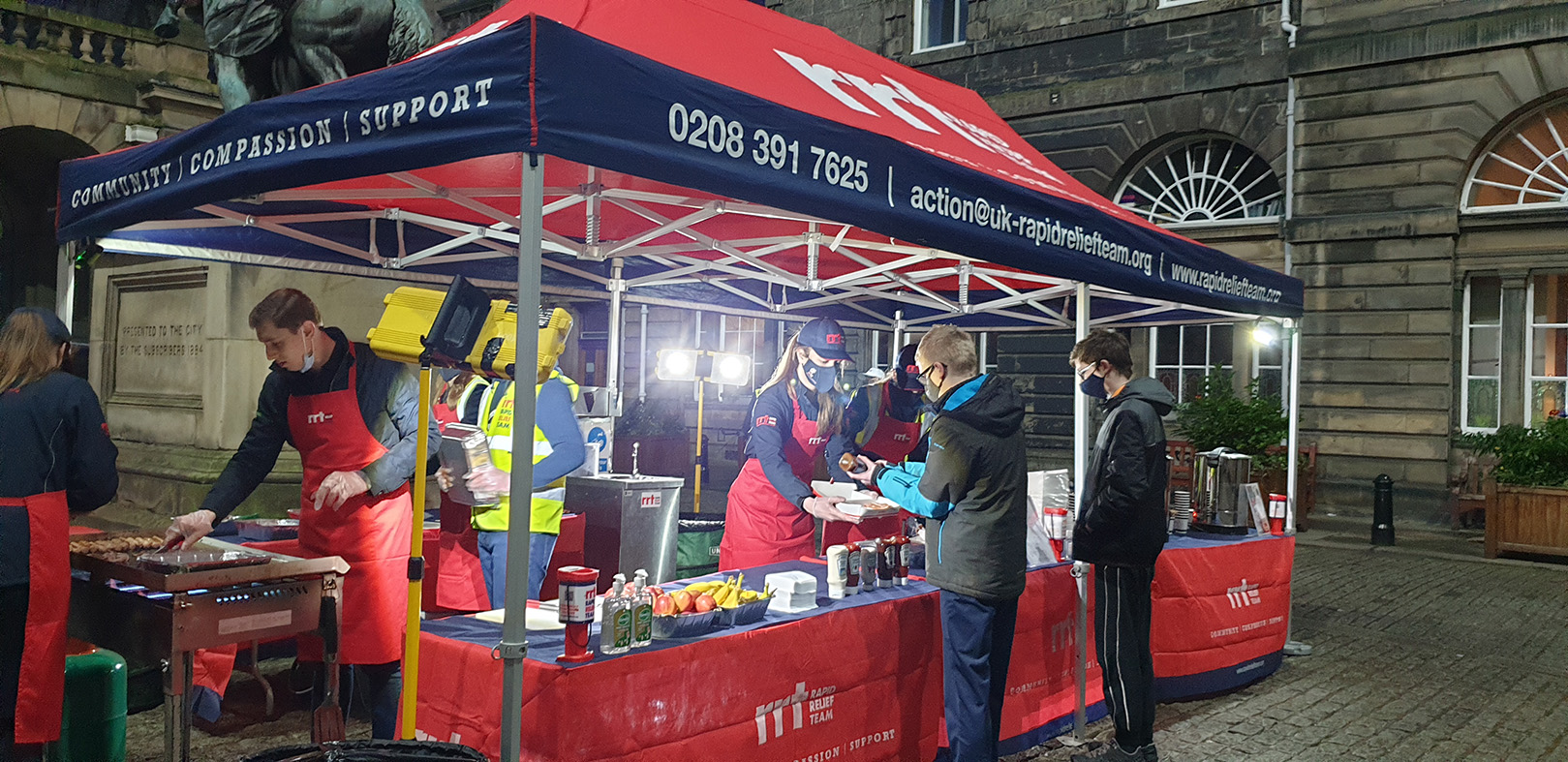 Rapid Relief Team UK serve a delicious hot breakfast to participants the morning after
In the days following, that total has grown to over £30,000 and counting. One hundred percent of that sum will go towards Bethany's work – providing accommodation and vital individual and community support to ensure that rough sleeping and other manifestations of homelessness cease to be the daily reality for many in Scotland.
Bethany Christian Trust is extremely grateful to, and proud of, our participants, donors, staff and everyone who made this Sleep Out a great success.
We look forward to the next one!