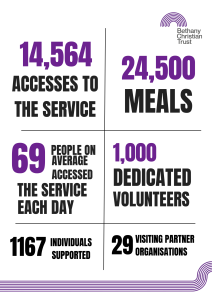 Another season at the Welcome Centre comes to a close.
This winter, 1167 individuals with no accommodation of their own were provided with warm beds, en-suite facilities, meals, and round the clock support.
Working alongside 29 visiting partners and helped by 1000 volunteers, the Welcome Centre supported guests with many moving onto the right accommodation with follow-on support.
All this could not have been done without the people and partners who've generously given their time, resources and donations to support this work.
We cannot thank you enough!
This season's Welcome Centre ran at the Haymarket Hub Hotel, Edinburgh from October 2022 to May 2023