Throughout Bethany Christian Trust's 40th anniversary year, we are taking the opportunity to look back at Bethany's history and reflect on the faith, hard work and generosity of the countless people involved in our story so far.
Bethany's vision is inextricably tied to God's compassionate care for people, a theme that can be seen throughout the Trust's history – from the congregation at South Leith Baptist Church in 1983, to the national organisation in operation today.
Anne Berry, along with her husband Alan (and the help of many others!), started Bethany's journey in February 1983. Anne's account of this time, recorded in detail in her wonderful book, Giving Hope and a Future (2009), tells the story of these early days in Leith, as she and Alan were caught up in God's vision for the vulnerable and homeless people that knocked on the church door. This story speaks to Bethany's core values and to our thankfulness for all who have joined us in our vision to end homelessness in Scotland, one person at a time.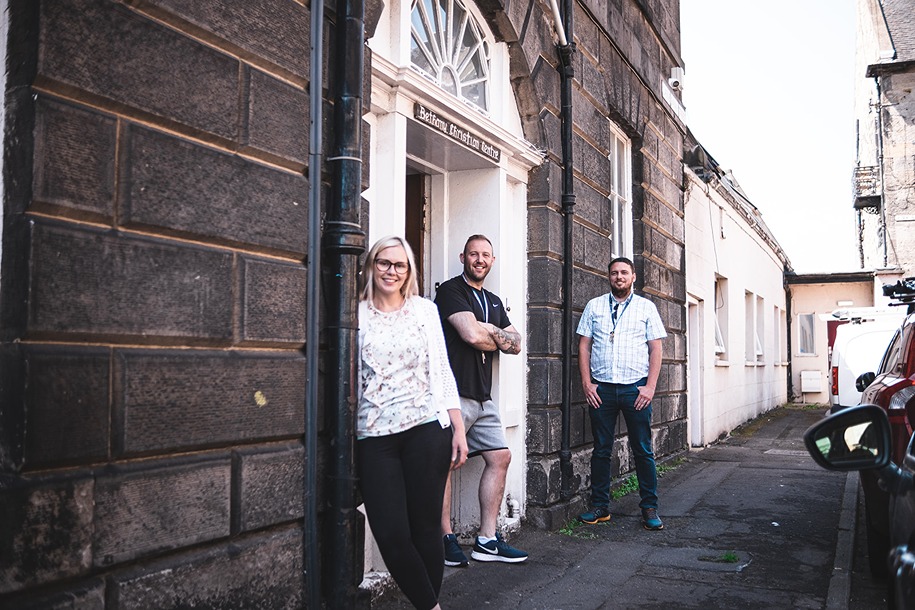 Team outside Bethany Christian Centre today [Photo Simon Juho]
Below is an excerpt from the first chapter of Anne's book, a record of the founding of Bethany Christian Trust and establishing of Bethany Christian Centre, a service that continues to help men who are homeless and assist individuals in their recovery from addiction:
"Leith has a proud history. As the major port access to Edinburgh, it has served as the staging point for many of the significant events in Scottish history.
The docks at Leith underwent severe decline in the post-Second World War period with the area gaining a reputation for roughness and prostitution. Planners could not decide whether certain areas should be industrial or residential and so, physically and emotionally, the heart was knocked out of Leith as people were moved to outlying housing schemes. The disused railway station became a gathering point for 'down and outs' and a darker drug sub-culture flourished in a climate of deprivation.
It is in this context that the Bethany story begins.
[…]
Little by little, week in, week out, the need for accommodation became increasingly evident […]. Many of the young people who came to the church door were being housed in very sub-standard conditions. In the main they were unemployed, from deprived backgrounds or with other social problems. Some lived in cubicles which would be considered restrictive for animals. We met men who for years had shared a room with four or five others […]. We met young people who had been pushed from pillar to post all their lives because of their parents' marriage breakdown or death.

The need would not go away, nor would the conviction that somehow we were to be involved in the answering of our own prayers for this need. Alan was aware that while he was preaching about the love of God and the responsibility of Christians to demonstrate that love to others, there was often a gap between 'knowing the Word and doing it.' […]

In late 1979 he shared his vision for a Christian hostel with the congregation at South Leith and asked that they pray about whether this was the way forward, and if so whether they would be willing to help make it a reality.

[…]

With the help and advice of [many] a trust was formed. The original trust document was comprehensive enough that it allowed for far-reaching ideas in relation to work with elderly folk, the unemployed, retired Christian workers etc., which could all be explored in the future if desired.

Initially the name 'Bethany' was probably chosen because in seeking to run the hostel as an 'extended Christian family', it was hoped that it might be 'A Place of Quiet Rest' like the home of Mary, Martha and Lazarus in Biblical Bethany, where Jesus was welcomed and made to feel at home. It was important to the trustees that 'Christian' should also be incorporated in the name of the Trust, for it was hoped that the work would be an expression of Christian love in action, and a response to alleviating the suffering of vulnerable people which is a cause close to God's heart.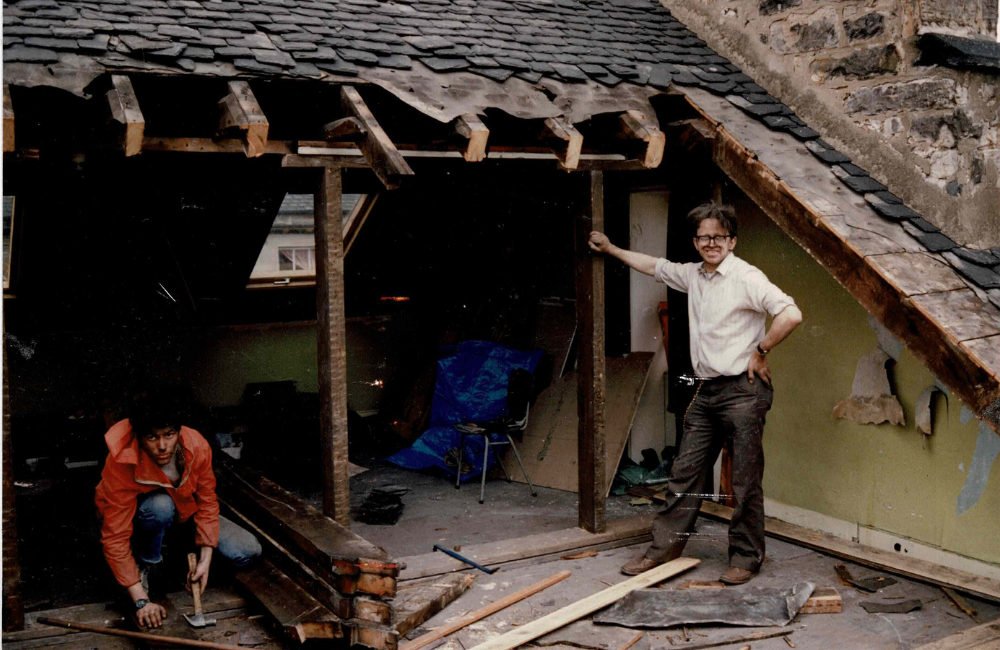 Alan Berry and team repairing the roof of Bethany Christian Centre, 1980s.
The early days of Bethany leaned heavily on the support of members of the local church community and a number of key individuals, as Alan and Anne sought to express that love in local and practical action. Through months of prayer and graft, Bethany Christian Centre first opened its doors to people needing a safe place to stay.
As the Centre developed and challenges were met and overcome, the vision began to grow:
"Over the months, the vision […] expanded […], for although originally the whole purpose of the Trust was to provide accommodation, it became increasingly evident that homelessness was often only the presenting problem, and many residents had other issues too.
The support team developed a homely atmosphere, emphasising the family aspects of the work, building supportive relationships with the residents and even continuing this relationship after residents had moved on from Bethany accommodation. This was Christ's love in action, as Anne describes:
"Caring for people can be costly in terms of giving of oneself. Joy and sorrow, success and failure, wholeness and shattered lives […] these were all contrasts with which these early staff, and indeed those who have followed them, had to grapple.
40 years on and many of Anne's words hold true for Bethany's work today. We remain committed, as Alan and Anne were in 1983, to serving people, to sharing God's love in action, and to ending homelessness in Scotland.
You can read more about the early years of Bethany's story in Giving Hope and a Future, and discover here how this has developed into a national charity dedicated to ending homelessness in Scotland, one person, one family and one community at a time.