Buy a Bed campaign raises an amazing £94, 634 towards the Rapid Re-accommodation Welcome Centre and Bethany's winter work in homelessness support!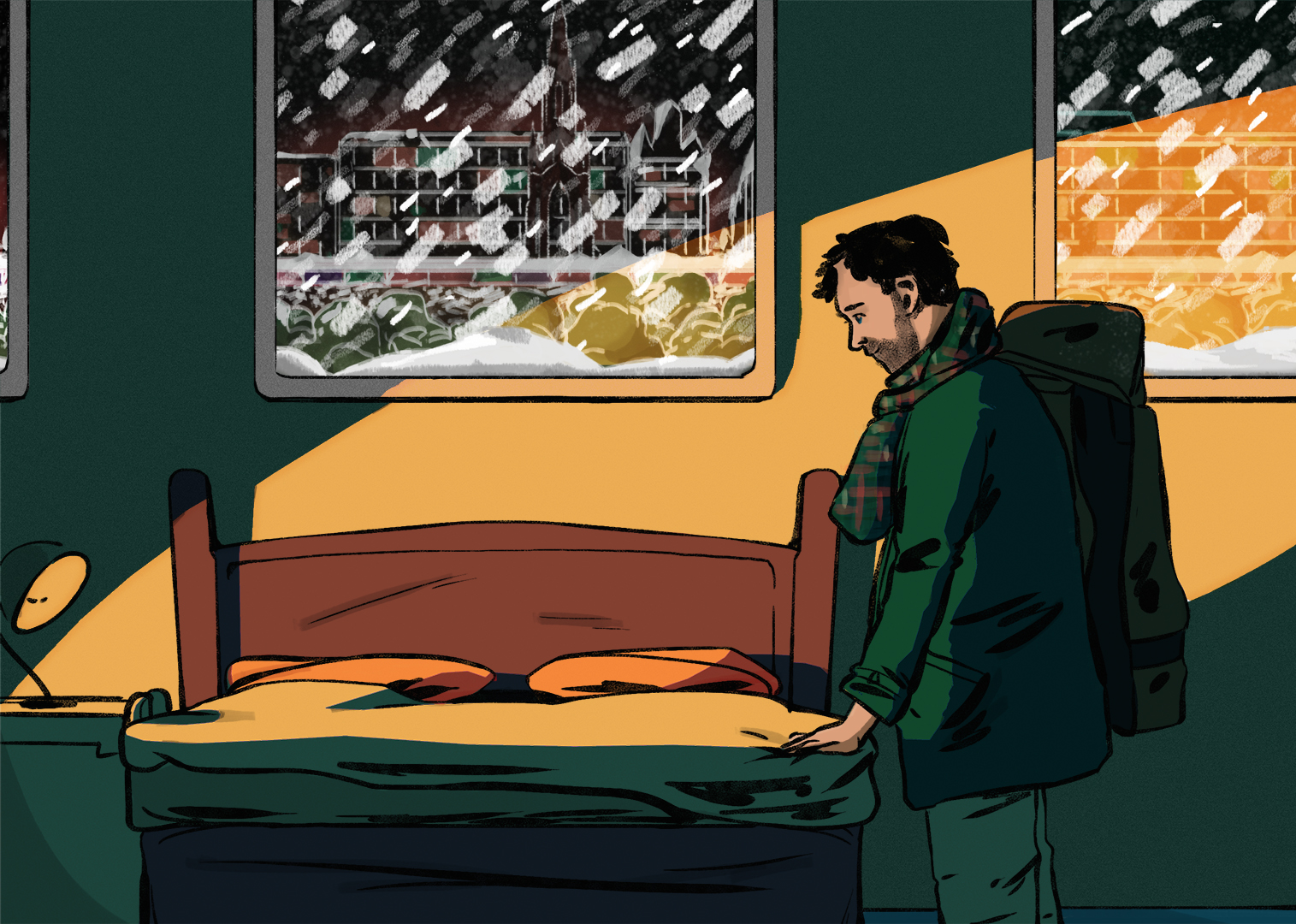 2021 Buy a Bed card (illustration by Liam Rotheram)
Since 1996, Bethany Christian Trust has provided emergency accommodation and care for people sleeping rough in Edinburgh every winter. Last year, once again, we invited the public to purchase £21 Buy a Bed vouchers that would help to support one person at the Rapid Re-accommodation Welcome Centre.
New for 2021, our Buy a Bed cards featured an illustration from artist Liam Rotherham, and could be personalised to give to friends and family as an ethical Christmas present. We also had optional activity sheet inserts for younger recipients.
In November we also participated in The Big Give's Christmas Challenge for the very first time, which provided an opportunity for supporters to have their donations to Buy a Bed doubled. We had a match-funded £20k target, thanks to Baillie Gifford and the Together Project, and this was reached in an astonishing four hours!
"When I walked in, all I could think was how beautiful this place was and how thankful I am to be here."

Guest at the Welcome Centre, 2021
Since it re-opened in October, the Rapid Re-accommodation Welcome Centre has provided accommodation and support to over 600 individuals who would otherwise be sleeping rough. At the centre, residents are able to recoup and recover with access to a warm cosy bed in a private en-suite room, hot meals, showers and other essential amenities. Also on hand are Bethany staff and visiting service partners who – working together – help residents with housing advice and other vital services.
We are extremely grateful to everyone who contributed to this campaign. Without your support we would not be able to offer this much needed service.
We look forward to an even more successful and impactful campaign next year!
For more information on the Welcome Centre, our collaboration with other organisations and how the pandemic has shaped our work, take a look at the 2020-2021 Welcome Centre report.
The Welcome Centre is based at the Haymarket Hub Hotel, 7 Clifton Terrace, Edinburgh EH12 5DR and remains open until the 2nd of May 2022.
Find out more